How Do I Organize My Work Van?
[ad_1]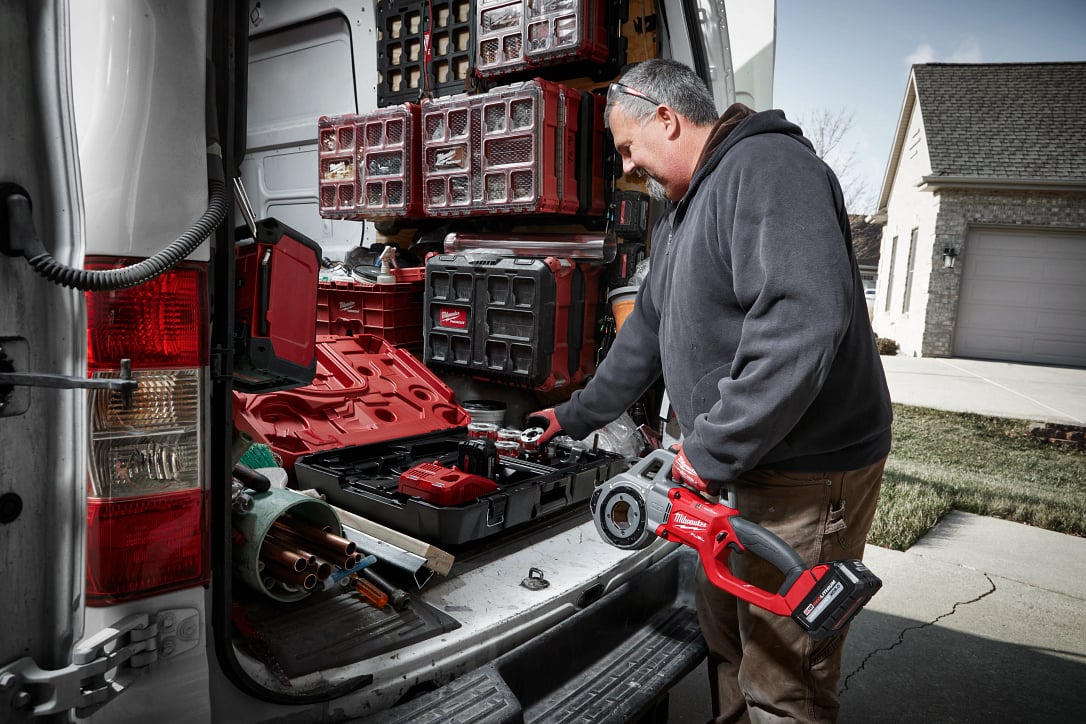 While we've previously shared some tool crib management ideas, the way you transport, organize, and store your inflight tools and equipment is just as important. 
After all, disorganization comes at a crushing cost. A survey conducted by Express Employment Professionals (as reported in Entrepreneur) found that organization-wide disorganization cost 57% of companies 6 working hours per week, representing around $11,000 a year due to lost time. 
When we zoom back in to understand how skilled trades might manage the organization of tools and equipment, transit plays a big part of that. "Contractors often overlook the tools that protect the tools and their need for power tool storage," Rob from A Concord Carpenter / ToolBoxBuzz notes. We often preach the advantages of digitizing your inventory; but just as clean and consistent data imports help prevent tools becoming lost in a large digital inventory, organization of tools and equipment in transit is equally mission-critical to keeping otherwise productive jobs from screeching to halt.  
Staying organized while on-the-go helps prevent what Rob refers to as "time sink […] Every time somebody goes to the trailer or the truck or the van or the lumber yard" looking for an item they didn't bring with them in the first trip.  
Whether you're looking to enforce an organizational system across an entire fleet of vehicles, or are a sole proprietor keen on tidying up your service van, you can find harmony in movement. 
Service Van Organization Ideas
Here are 3 quick work van organization ideas we'll discuss and that we think you should consider:  
Optimize Van Space for Better Organizational Capacity:
Service Van Racking Ideas
Organizing your work van is not that dissimilar from organizing your tool crib, just with limited space—that means optimizing the space you do have is that much more important. 
Housing developers in landlocked cities don't have the luxury of building sprawling compounds, but rather have the challenge of building up; finding space and a racking solution in your work van is a similar challenge. You don't merely have to carve out the space to contain everything; you also must optimally organize it all—so you can find and grab what you need in the shortest amount of time possible—and, frankly, that's a whole study in interior design and feng shui if there ever was one. 
Hence why among Ferguson's tips for organizing a work van is similar piece of wisdom, to "think vertical." They note: "Stack items based on size, and leave the top of your work van for the smallest and lightest parts. Install pegboard and use hooks to secure tools, and consider hanging equipment from the ceiling of your van."   
Noah HVAC_Artisan shows off how an HVAC tech may design their service van for optimal organization, channeling Ferguson's recommendations with door hooks that anchor PACKOUT™ dollies, tool pouches, and miscellaneous accessories. 
The widest open cavities of the van can be used to hollow out shelving units, upon which you'll essentially need to play a game of toolbox Tetris to accommodate container shape, including stackable toolboxes, crates, mobile job boxes/gang boxes, and organizers for accessories and consumables. Under these shelves is where you can store your larger space occupiers, such as heavy equipment (e.g., drum machines for plumbers and sewer/drain maintenance professionals; bulky carpentry and woodworking tools like table saws and miter saws being transported to the job; etc.). Additionally, you may consider using this space to haul your jobsite power solution, in case you need access to on-demand power on a site where electricity is inaccessible, or if you find you need to charge your cordless tool batteries. 
Work Van Tool Storage Ideas
: Modular Storage & Kitting 
Fans of PACKOUT™ have embraced Milwaukee® Tool's modular storage system and employed the system-wide modularity to optimize tool and equipment transportation, organization, and storage across all stages of a construction project: on the jobsite, in transit, and back in the shop or tool crib. We've seen countless examples of PACKOUT crates, organizers, and toolboxes, and more being used not only in the shop, but also in transit and on jobsites. 
Rob from A Concord Carpenter / ToolBoxBuzz explains how he's moved from a trailer with shelves specially designed to hold specifically measured boxes to PACKOUT stackables. 
"Do you have a system that gets multiple tools and accessories into the jobsite on one trip?" he rhetorically asks.  
A pioneer, Rob explains how he's begun using a "tool kitting" process, a trend we've noticed and recently engineered and deployed a software feature to support within the ONE-KEY™ app, where bulk sends are grouped together and sent to the job all at once. "I decided it was time for me to create these tool kits of commonly used tools, all their accessories—chargers, everything," he explains, adding "and depending on the work I was doing, I would grab the appropriate kit, stack it up, and go."  
Whether you're new to PACKOUT or an old pro looking to add new PACKOUTs to your PACKOUT stack as they're released, you can use the PACKOUT Builder to configure it digitally and perfect your stack before checkout; the PACKOUT team has recently added a new "Wall Plate Builder" component to let you virtually set up your PACKOUTs by anchoring them on walls via the recently announced mounting plates. PACKOUT hooks (available in 9"straight, 4"straight, 6"curved, 3" curved, 4" S-hook, and wide) tool racks & holders (available options include: long handle tool rack, tool station, M18™ battery rack, M12™ battery rack, tool rack, screwdriver rack, compact shelf, roll holder, and organizer cup), and accessories (large bin set and bin set) will be soon available to optimize your work van storage capacity!  
Tool Inventory App  
Maximizing real-time visibility into inflight projects is crucial. This way, at any moment you can see where assets are and reroute them if necessary. Connected construction is among Deloitte's 5 engineering and construction industry trends to watch for 2022. They note, about connected construction: "These technologies can help bring assets, people, processes, and job sites onto one platform—making everyone and everything work smarter—reduce downtime, optimize asset utilization and efficiency, and gain greater visibility into operations."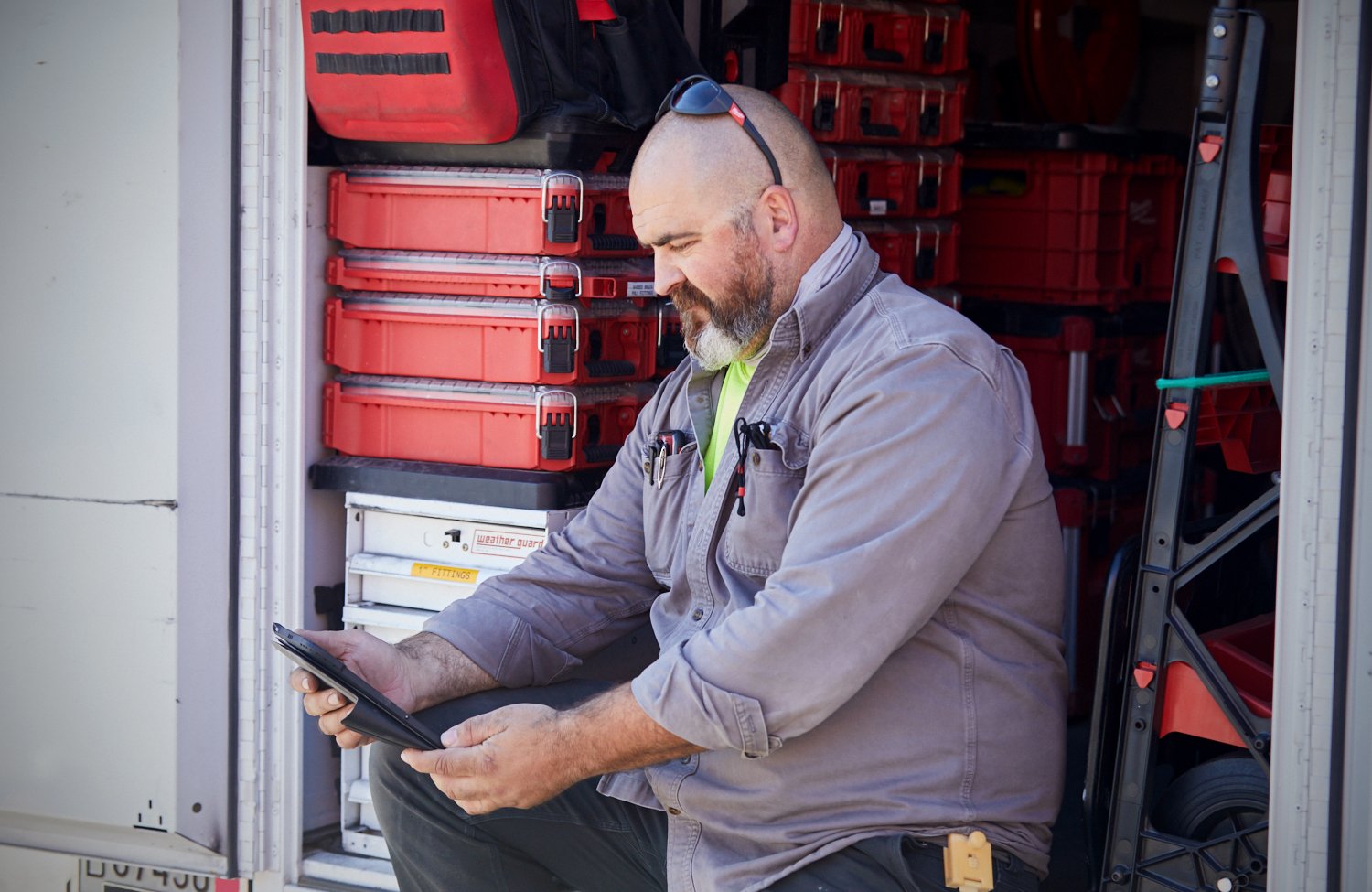 Maintaining visibility to where your equipment inventory, in this way, at any moment and at any given project, is critical, representing the difference between a productive day that starts without a hitch and a disjointed one filled with time-consuming troubleshooting. As we've previously noted, "non-productive" activity—like waiting around for materials to arrive or losing time due to an equipment breakdown (or, the time sinks Rob discussed above, from merely packing tool bags in an inefficient way that results in going back and forth to the service van far too many times)—can be an expensive time waster, and even lead to project overruns.  
76% of engineering and construction (E&C) executives indicated in a Deloitte survey they are investing in digital technology to address broader cost and margin challenges. Adding in another white paper, the authors note, "E&C firms should focus on having a holistic technology convergence approach that connects, integrates, and automates construction sites with the entire value chain on a secure, intelligent infrastructure."  
A construction inventory app not only helps tool crib managers in the crib manage the flow of inventory, but also empowers real-time collaboration through multi-user permissions and productivity by allowing your field ops team to verify items are received, perform installations and sync data on compatible smart tools, and update documentation on the go. 
Features include:  
Tool Kitting

: Like we mentioned above, we added a

tool kitting software feature

to One-Key to empower contractors who are doing this in the real world! This powerful software feature helps you manage big jobs with the ability to audit everything at every stage (as it's sent out, received on the job, before it leaves the job, and when it comes back to the crib) with a checklist you can send back to team members. When combined with hardware products like our new

ONE-KEY™ Bluetooth Tracking Tag

, tools that aren't seen at the end of the job can be quickly found via initiating the onboard speaker to ping and find them, preventing situations where tools would otherwise

become missing

. 

 

Geofencing

:  You can

add a virtual perimeter

around any job, and if tools assigned to that zone start to wander, you'll be alerted.

 

Last-100-ft Experience

: You can troubleshoot in-the-vicinity item locating via a digital

in-app proximity tool

. 

 

Tool Location History

: You can get a

broad location history

on your items and set date ranges to get a broader context into where inventory is across your operations. 

 

Inventory Audits

: You can run a

quick scan of the location via the mobile app

and check which tools are nearby.

 

Equipment Tagging:

As previously reported, 42% of contractors have adopted

equipment tagging

as a priority. One-Key allows for

barcode assigning and scanning

via your mobile device's built-in scanner, so you can ditch the expensive barcode scanning hardware normally required to start this inventory tracking strategy. Tagging can be especially helpful when combined with the tool kitting feature that we discussed above, allowing you to more quickly your check in process, for example, by scanning a barcode on a gang box to get a list of what's inside. 

 

And so many more!



Did we mention the One-Key app (and all the above-mentioned, powerful features) is completely free to use? 
New to Bluetooth™ tracking? Learn how a community Bluetooth tracking network works.  
Bottom Line
Disorganization may come at a crushing cost, and while ending the associated inefficiencies starts at the crib, your service van's organization is an equal culprit of costly "time sinks."  
Our work van storage ideas include not only optimizing the physical space in your van, but also, as our friend Rob points out, optimizing your mobile storage solutions such that you're able to get more onto the job in fewer trips, ensuring these "tool kits" have everything you need—the tools themselves, their bits and blades—to successfully complete all aspects of the specific job at hand on the particular day. This proactive approach to mobile storage will help increase job day productivity by reducing the number of times you'll have to go back to the van to retrieve reinforcements. 



[ad_2]

Source link