Do Insulated Pole Barns Get Hot in the Summer?
[ad_1]

Did you know that a pole barn is extremely energy efficient? From keeping your building cool in the summer months to a comfortable temperature in the winter months, a post-frame building can keep you comfortable year-round.
Thankfully there are several ways to keep your pole barn cool, ranging from insulation to windows, doors, and more.
In this article, we will explain the importance of insulation and provide tips to keep your post-frame building cool while also improving the efficiency of energy consumption and air quality efficiency. We will review:
The science behind hot buildings

How insulation helps keep the building cool

Other construction methods to keep your building cool
The Science Behind Hot Buildings
Hot air is always going to trump cold air. By studying thermodynamics, you will better understand why heat is persistent in finding ways to enter cooler areas, but here are the three main ways heat enters your building: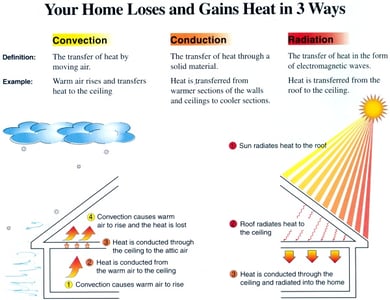 Conduction
This is the transfer of heat through direct contact. For example, your hot roof transfers heat into your attic/rafters.
Convention
Heat rises. This is why your attic/upper level is hotter than the rest of the building.
Radiation
This is due to the sun rays hitting the roof and exterior walls.
Without proper ventilation and air barriers, the air entering your building has nowhere to go. Therefore causing the air to get stale, the temperature to rise, and your building becoming very uncomfortable.
How Insulation Keeps the Building Cool
Believe it or not, insulation has two main functions: keep your buildings warm in the winter and cool in the summer. Insulation is your primary defense to the building shell, aka the exterior of the building. 
Insulation works best when air is not moving through or around it. That's why it is important to seal air leaks before installing. 
Continue reading to learn more about the placement of insulation and how it helps keep your building cool. 

The Four Main Categories of Insulation that FBi Recommends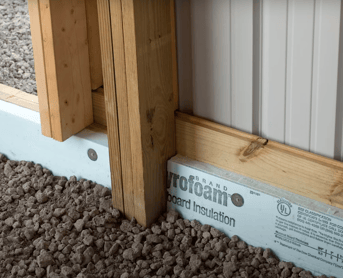 Perimeter Slab Insulation


Post-frame buildings typically have a concrete slab floor sitting on the ground. If you insulate around the perimeter, you can prevent cold air from escaping around the building.

Typically, a dense 2-inch rigid board insulation is used vertically alongside the columns or horizontally under the concrete.

Wall Insulation


Cool air escapes through walls primarily by conduction. Adding insulation will significantly reduce this effect. Different wall insulation options include:

Fiberglass Batts
Most common, easiest to install, and most affordable. Long spans of fiberglass insulation can be placed in-between posts, resulting in few breaks (or air leaks) among batts.
Sprayed Polyurethane Foam (SPF)
The newest product on the market and becoming more and more popular. SPF fills and seals all exposed areas and cracks within walls, giving you the best protection from air drafts and moisture.

However, due to the chemicals and equipment needed to install SPF, it will have to be installed by a professional spray-foam contractor. SPF is also permanent and can be difficult to remove. Another critical detail to consider, some SPF insulations can be corrosive to steel and are not recommended for steel-sided buildings.
Vinyl Back
This is a fiberglass batt with a white coating on the back. The backing means it can be left exposed without a liner. This option can be challenging to install correctly, and people may not like the appearance.
Rigid Board Insulation
This is installed directly underneath the exterior steel siding. This means it's continuous, covering all framing members. But it will require more taping or caulking where the boards meet, making it more labor-intensive and time-consuming.

The option FBi Buildings recommends is fiberglass batts. Long insulation spans can be installed between posts, typically 8' wide. This results in fewer air leaks between batts.

The insulation advantage of post-frame walls:
Fewer vertical framing members = Fewer gaps between batts = Less air infiltration = Greater energy efficiency

3. Attic Insulation
Blown insulation is most frequently used for attics in post-frame buildings. This is due to code requirements for higher R-values.4. Roof Insulation
This option is used when the trusses are exposed, and there is no attic space. Typically the insulation choice is SPF, and it is installed under the roof sheathing.

PRO TIP: If you use the foil-faced rigid board, this will reflect radiation energy, keeping the building cooler in the summer.

If you are on a fixed budget, prioritize insulation measures. Review the building envelope, identify the spots you are most likely to have heat gains (usually the roof), and invest your money there. Check this out to learn more about insulation costs.
Building Features to Keep Your Pole Barn Cool
From the proper placement of quality windows and doors to the building ventilation system, there are several ways you can ensure your building will stay cool during the summer. 
Ventilation
The better you insulate the building, the more adequate ventilation you need. The exchange of indoor air with outdoor air will prevent condensation. Click here to learn more about the importance of managing pole barn condensation.

Windows & Doors
From quality to installation to placement – your heating, cooling, and lighting costs depend significantly on the decisions you make when it comes to your windows and doors.
By now, you should have a better understanding of the role insulation has in your building and how construction decisions make a significant impact on your energy efficiency. 
You can download our FREE Ultimate Guide to Pole Barn Insulation for more information. With our expertise, you'll discover how to reduce utility costs and enjoy the money-saving benefits.


[ad_2]

Source link